____________________________________________________________
Please help us know how to best serve you as we begin to think about reopening the Sanctuary for worship on Sundays. Take a few minutes to fill out our survey!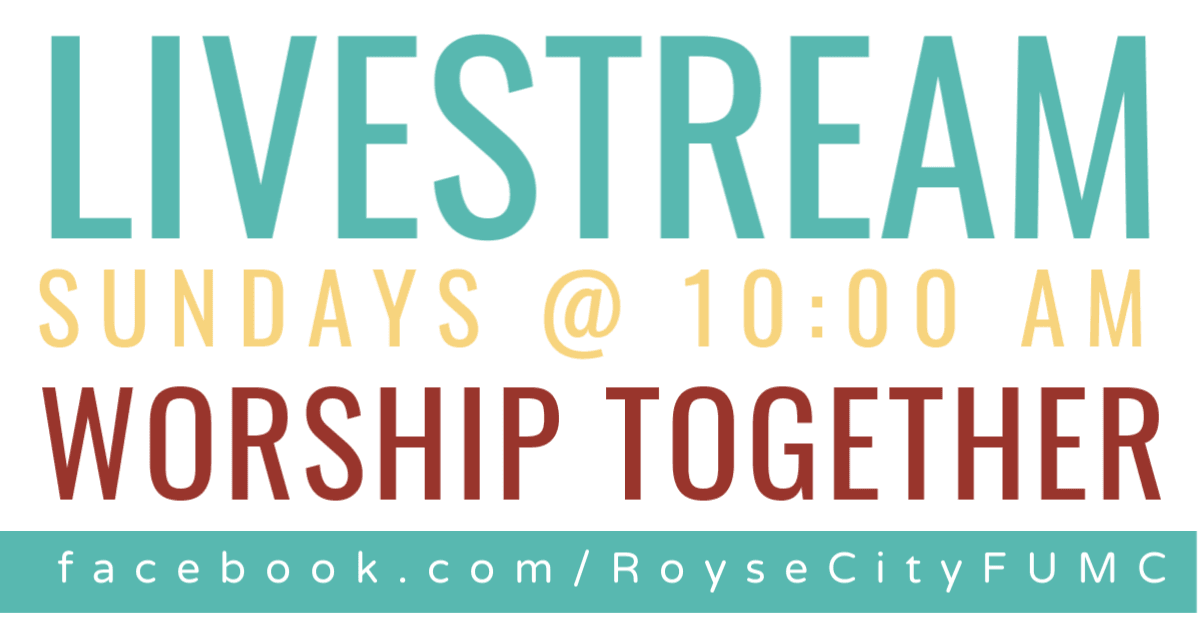 Openings & Cancellations
In the midst of COVID-19 (coronavirus) concerns, ministry hours have been adjusted as follows:
Our Daily Bread Food Pantry will be open as usual:
Thursday 5:30-7:00 PM
Saturday 9:00 - 10:30 AM
Items needed - cereal, soup, canned beans, pasta sauce, jelly, sugar, canned pasta, flour, dried pinto beans, bread and canned fruit.
Drop off times: Wednesdays 10 - 11 am & Fridays 1 - 2 pm
Online Worship Only:
We will have worship at 10:00 am on our Facebook Page. You can click the button above to join us in online worship.
Church Office Hours:
Closed - call 972-636-2291 for assistance, or send us a message using the chat feature.
CANCELLATIONS:
All other face-to-face meetings and groups are cancelled until further notice. Instead, consider meeting online using one of the tools above!
Notes from Pastor Chris
(message dated 7/24/20)
Hello Church Family,
I wanted to give you an update from our Leadership Board meeting last Monday night. We spent a significant amount of time talking about resuming in-person worship in the sanctuary. The board unanimously voted to hold off on reopening through August. Our next leadership board meeting on August 17, and we will re-evaluate and decide about in-person worship for September at that time.
As we made this decision, we considered the increased numbers of those infected, the inadequate contact tracing and reporting, and, as mentioned before, the size of our sanctuary and how we cannot adjust seating because of the pews in the sanctuary.
I'm very thankful for our board's thoughtfulness and careful approach as we move through this trying time. I'm also grateful for the staff, who are always thinking of ways to minister to our church family and community.
This week we celebrate 100 kiddos in our community participating in our virtual VBS. We are thankful for the continued support for Our Daily Bread food pantry and our Crooked House fund to help those in need around our community.
It has been made clear to me through this season that we can live out the words found n the Lord's Prayer: "Your kingdom come, your will be done, on earth as it is in heaven." Over the next few weeks, we will have more service opportunities.
We have the upcoming blood drive on Tuesday, July 28, and a school supply drive for Davis Elementary and the Education Foundation. We also need to make sure our seniors are taken care of as the pandemic continues.
This time of quarantine is most certainly not how I wanted to start my 5th year in ministry in Royse City, but there is still no other place I want to be. I'm thankful for all of you and your faithfulness to Christ and His church.
If you have any questions or concerns, please do not hesitate to email or message me.
Be God's,
Pastor Chris
Giving
We want to encourage you to continue to give faithfully to our general budget at Royse City FUMC even though we aren't meeting on Sunday mornings so that we can continue to do ministry and be on mission. If you or someone you know is struggling financially due to layoffs or other COVID-19 related issues, please contact us on the Help Needed form above.