____________________________________________________________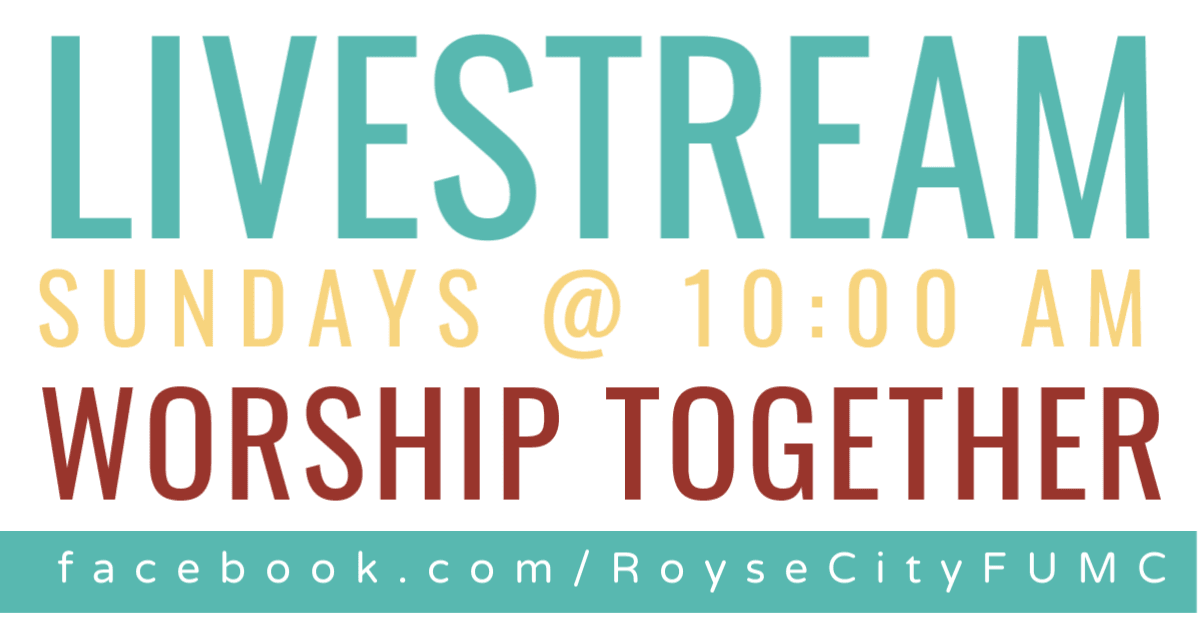 Openings & Cancellations
In the midst of COVID-19 (coronavirus) concerns, ministry hours have been adjusted as follows:
Our Daily Bread Food Pantry will be open as usual:
Thursday 5:30-7:00 PM
Saturday 9:00 - 10:30 AM
Items needed - canned beans, pasta sauce, jelly, sugar, canned pasta, flour, dried pinto beans, bread and canned fruit.
Drop off times: Wednesdays 10 - 11 am & Fridays 1 - 2 pm
Online Worship Only:
We will have worship at 10:00 am on our Facebook Page. You can click the button above to join us in online worship.
Church Office Hours:
Closed - call 972-636-2291 for assistance, or send us a message using the chat feature.
CANCELLATIONS:
All other face-to-face meetings and groups are cancelled until further notice. Instead, consider meeting online using one of the tools above!
Notes from Pastor Chris
Dear Church Family,
Per directive from our Bishop Mike McKee, Royse City First United Methodist Church along with other churches in the Annual Conference will not hold public worship for the next two weeks. Pastor Chris is working on a plan to have Facebook worship at 10 am on Sunday morning. We will sing, pray, and continue to praise God in the midst of this difficult time. Please... if you know of any members of our congregation that are not on Facebook or email reach out to them and let them know.
Praying for you all and see you here on Facebook at 10 am!
Here is the link from our Bishop's email that went out Friday morning, March 13, 2020
https://mailchi.mp/ntcumc/north-texas-conference-responds-to-coronavirus-pandemic?e=179acb64cd
Be God's,
Pastor Chris
PS - As always please reach out to others who may not be on email or Facebook and let them know this important change.
Giving
We want to encourage you to continue to give faithfully to our general budget at Royse City FUMC even though we aren't meeting on Sunday mornings so that we can continue to do ministry and be on mission. If you or someone you know is struggling financially due to layoffs or other COVID-19 related issues, please contact us on the Help Needed form above.